Dolphin Cove Voted Jamaica's Best
Created on Thursday, 13 June 2013 16:45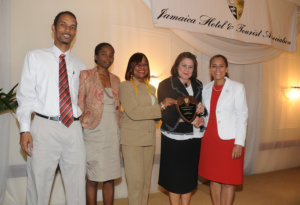 Dolphin Cove again underlined its status as Jamaica's #1 attraction when it was awarded the Attraction of the Year by the Jamaica Hotel and Tourist Association at the awards ceremony held on June 1, 2013. Dolphin Cove previously won the award in 2010.

The largest marine attraction in the Caribbean, Dolphin Cove is a water park with more than 1500 feet of ocean frontage. In addition to swimming with dolphins, Dolphin Cove offers its visitors many other activities including swimming with sharks and stingrays, snorkeling, kayaking and a jungle trail featuring macaws, snakes and iguanas.

Vice President of Dolphin Cove, Marilyn Burrowes, praised the staff as the reason for the award. She remarked,"Our staff has worked hard to ensure that Dolphin Cove provides our many visitors with the experience of a lifetime. Without our employees, we would not be as successful as we are."

Members of the JHTA voted for tourism attractions that have provided the best all-round service to the hotel industry in terms of customer service, efficiency, professionalism, responsiveness and cooperation.