Dolphin Cove Supports Ocho Rios Craft Vendors
Created on Tuesday, 23 April 2013 02:16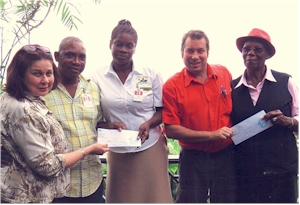 Dolphin Cove Ltd., Dunn's River Videos Ltd and the Florida Caribbean Association recently partnered to sponsor President Nadine Brown of the Ocho Rios Craft Market Association and Maudiline Gloria Wright, Public Officer of the Craft Traders Association to attend the Sea Trade Conference in Miami from March 11 – 15.

Ms. Michelle Paige, President of FCCA, hosted them at the Grand Gala where they were able to meet with cruise executives at the annual event.

President of the Ocho Rios Craft Council, Mr. Devon Mitchell, heaped praises on the companies and lauded their generosity.

"After seeking assistance from over 15 corporate entities in and around Ocho Rios for help, Dolphin Cove and Dunn's River Videos were the only ones that helped," said Mitchell. "This latest gesture clearly enhances the track record of both companies as being good corporate citizens'" he added.

The Sea Trade Conference seeks to impart relevant information on the cruise shipping industry through workshops and exhibitions which showcase different cultures and destinations. Stakeholders get the opportunity to meet and socialize with the movers and shakers of the industry.